Philippines restarts non-essential travel
Non essential outbound travel ban lifted
Travelers for leisure and tourism purposes are now allowed by the Philippine government.
Lifting of non-essential outbound travels also benefit Filipinos who want to visit their foreign partners abroad.
Travel requirements for non essential trips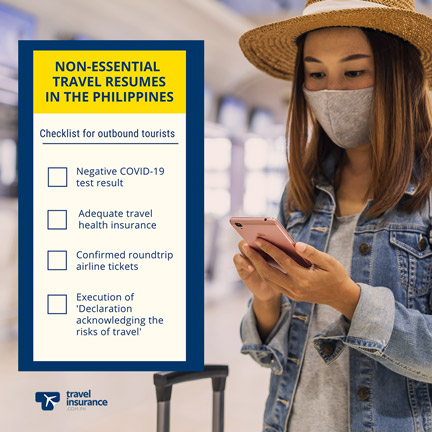 Be informed on the requirements that need to be prepared prior to the trip:
Negative COVID-19 test results

Confirmed roundtrip tickets

Execution of a 'declaration acknowledging the risks in traveling'
Insurance for non essential travel
Outbound travelers from the Philippines with tourist visas are required to have adequate travel and health insurance which the Bureau of Immigration will check upon proceeding with the travel. The travel health insurance policy should have COVID-19 coverage. If you are unable to show proof of travel insurance, it is likely that you will be offloaded and you will need to rebook your flight to another date and prepare your lacking documentary requirements.

Research travel requirements of your destination
Every traveler should do due diligence in finding out the requirements of his or her destination country. Pandemic is not yet over, and having tourist visa does not guarantee you will be allowed to enter their borders. Philippines now allowing non-essential outbound travel, but some countries only allow essential travels for their inbound passengers.
Expect longer airport checks
Because of the additional requirements and tighter security protocols, you have to expect there are longer airport procedures. On your points of entry you may encounter mandatory tests and quarantine procedures which also entail additional costs. It is advisable to verify your destination country (possibly through its foreign affairs department or through your hotel where you plan to stay) what are the requirements to enter their country's border.

Practice preventive measures
Also, remember to practice preventive measures. If you are sick or you've been around with someone who has COVID-19 in the past 14 days. As cliché it may sound, always wear a mask & stay at least 6 feet apart from other people in public, wash your hands, bring a pocketable sanitizer (with at least 70% alcohol), do not touch your face and avoid being close to someone who is sick. When you are inside an airplane, the risk is higher so be extra vigilant.
More information on precautionary measures while traveling during COVID-19 pandemic at the CDC website.
Returning travelers to be tested and quarantined
Upon return, travelers should also follow COVID-19 guidelines for arriving Filipinos. Returning travelers must have a booking at a hotel accredited by Tourism and Health Agencies while waiting for COVID-19 test results. It is advisable to book at a hotel within Metro Manila and should be minimum of 2 days. Traveler must stay at the hotel until the test results until cleared by Bureau of Quarantine.
Also, it was also mentioned that returning residents coming from areas with high COVID-19 cases are required to present a negative RT-PCR test result from their point of origin.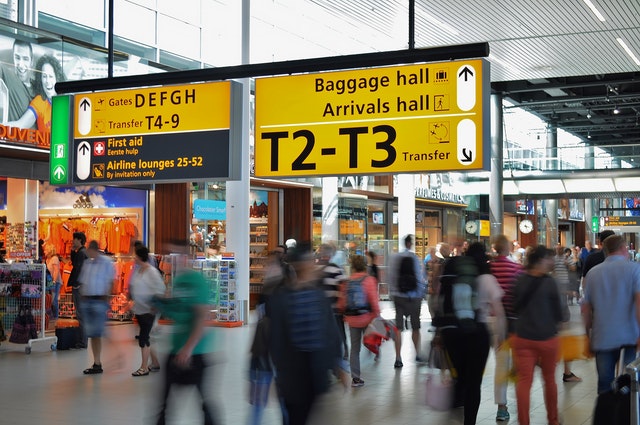 Tourism gradually being reinstated
Though it is still strict to traveling the world, recent developments point towards to freeing up leisure travel controls. The resumption of non-essential travel follow after some hotels for staycation located in general community quarantine (GCQ) areas have been allowed by the Department of Tourism. Travel-related businesses are also starting to resume. Travel agencies and tour operators will be allowed to re-open at 50% capacity for areas placed under GCQ and 100% capacity for areas under modified GCQ. All activities are subject to minimum public health standards and protocols.
Contact us or send us a message through Facebook