Philippines restarts non-essential travel
Non essential outbound travel ban lifted
Travelers for leisure and tourism purposes are now allowed by the Philippine government.
Lifting of non-essential outbound travels also benefit Filipinos who want to visit their foreign partners abroad.
Outbound travel restrictions in the Philippines
From March to June 2020, when the Philippines are enforcing strict community quarantine, there are no outbound travels allowed. It was only last July that essential travels were allowed. Vacations and leisure travels were still not allowed until October.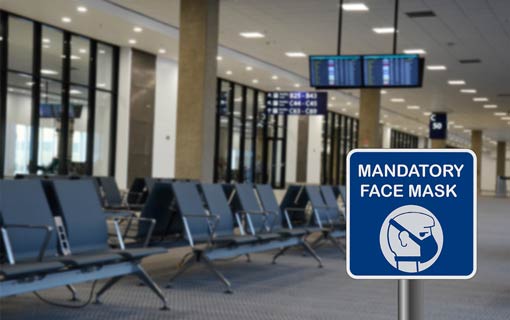 Now that some restrictions were already lifted, traveling for any reason are now being allowed. However, there are requirements that need to be prepared and travelers need to undergo procedures going through airports and airline properties. Depending on your airline, you may also need to register and accomplish health declaration forms ahead of your departure date.
Travel requirements for non essential trips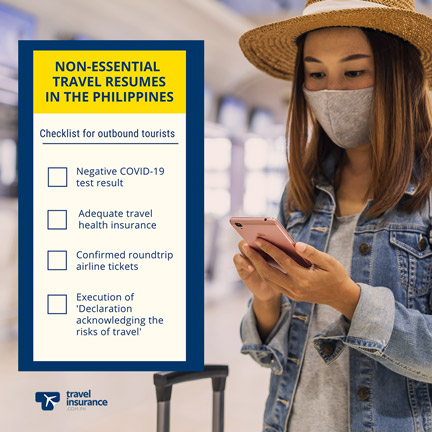 If you are traveling as a tourist, you must prepare the following before you can fly out the country:
Negative COVID-19 test results (if required by country of destination)

Confirmed roundtrip tickets

Execution of a 'declaration acknowledging the risks in traveling'
Airlines like PAL have list of requirements and guidelines posted in their website.
Travel medical insurance with COVID-19 coverage
Outbound travelers from the Philippines with tourist visas are required to have adequate travel and health insurance which the Bureau of Immigration will check upon proceeding with the travel. The travel health insurance policy should have COVID-19 coverage. If you are unable to show proof of travel insurance, it is likely that you will be offloaded and you will need to rebook your flight to another date and prepare your lacking documentary requirements.

Declaration acknowledging the risk of travel
A form that you need to sign is usually available at the immigration counter or will be provided by your airline. It is a document that would mean you accept the risks of traveling like you fully understand the current situation. Once signed, it means you acknowledge the IATF regulations and you are aware that there will be precautionary and risk accessments that you may ungergo.
Research travel requirements of your destination
Every traveler should do due diligence in finding out the requirements of his or her destination country. Pandemic is not yet over, and having tourist visa does not guarantee you will be allowed to enter their borders. Philippines now allowing non-essential outbound travel, but some countries only allow essential travels for their inbound passengers. Your booked airline or hotel may have some pieces of advice too.
Expect longer airport checks
Because of the additional requirements and tighter security protocols, you have to expect there are longer airport procedures. On your points of entry you may encounter mandatory tests and quarantine procedures which also entail additional costs. It is advisable to verify your destination country (possibly through its foreign affairs department or through your hotel where you plan to stay) what are the requirements to enter their country's border.

Practice preventive measures
Also, remember to practice preventive measures. If you are sick or you've been around with someone who has COVID-19 in the past 14 days. As cliché it may sound, always wear a mask & stay at least 6 feet apart from other people in public, wash your hands, bring a pocketable sanitizer (with at least 70% alcohol), do not touch your face and avoid being close to someone who is sick. When you are inside an airplane, the risk is higher so be extra vigilant.
More information on precautionary measures while traveling during COVID-19 pandemic at the CDC website.
Returning travelers from countries with travel restrictions
Due to the new COVID-19 variant, the Philippines has modified the protocol for incoming passengers. Effective December 30 2020 to January 31, 2021, foreigners coming from the following countries under travel ban are not allowed to enter the Philippines.
This is a list of countries with travel restrictions (updated January 17, 2021). Non-Filipino travelers from these countries are not allowed to enter the Philippines:
Australia

Austria

Brazil

Canada

China including Hong Kong

Denmark

Finland

France

Germany

Hungary

Iceland

India

Ireland

Israel

Italy

Jamaica

Japan

Jordan

Lebanon

Luxembourg

Norway

Oman


Pakistan

Portugal

Singapore

South Africa

South Korea

Spain

Sweden

Switzerland

The Netherlands

United Arab Emirates

United Kingdom

United States
Filipino nationals from the countries above can enter the Philippines but must undergo a strict 14-day quarantine, even if traveler has a negative COVID-19 result.
More information on the COVID-19 travel restrictions in the Philippines:
Please read the latest update on travel restrictions: - IATF Resolution No. 95 dated January 21, 2021
If you Philippine bound flying from USA, you may find useful information at the COVID-19 information page of the US Embassy in the Philippines.
Mandatory quarantine upon return
Those from countries that were found to have the new COVID-19 variant need to undergo stringent quarantine upon return to the Philippines.
Returning Filipinos are excempted from the travel ban but if origin country is under travel ban, he / she needs to undergo 14-day quarantine at a private, accredited hotel.
You may find your preferred hotel / quarantine facility by checking the list of accredited quarantine facilities in the Bureau of Quarantine website.
Altarnatively, you may choose a government facility as the cost of quarantine is free. If you choose a non-government facility, you must choose a facility with "stringent quarantine".
It is a good idea to plan and book your quarantine facility ahead, before your return
Travelers returning from non-banned countries
Previous guidelines
For travelers from countries that are not under the travel ban, they will still also follow the previous COVID-19 guidelines upon return. The process includes health declaration (a form will be filled out), registration and verification of traveler information, choosing a PCR test diagnostic center (a test costs around Php 4k+), encoding of your information and the actual testing. An e-mail address will be needed because test results will be sent through e-mail.
After the test, you will go through the usual immigration procedures then will be directed to the Department of Tourism center wherein they will verify if your booked hotel for quarantine is accredited. Traveler must stay at the hotel until the test results until cleared by Bureau of Quarantine.
It was also mentioned that returning residents coming from areas with high COVID-19 cases are required to present a negative RT-PCR test result from their point of origin.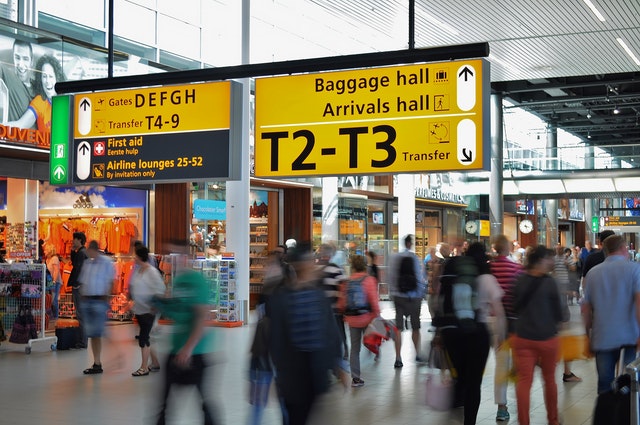 Tourism gradually being reinstated
Though it is still strict to traveling the world, recent developments point towards to freeing up leisure travel controls. The resumption of non-essential travel follow after some hotels for staycation located in general community quarantine (GCQ) areas have been allowed by the Department of Tourism. Travel-related businesses are also starting to resume. Travel agencies and tour operators will be allowed to re-open at 50% capacity for areas placed under GCQ and 100% capacity for areas under modified GCQ. All activities are subject to minimum public health standards and protocols.